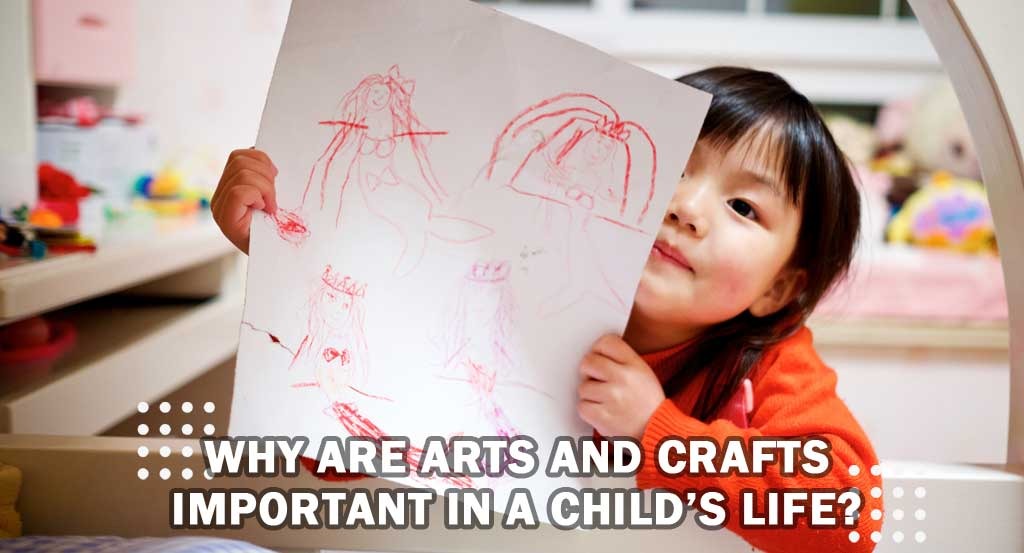 "Art has the role in education of helping children become like themselves instead of more like everyone else"  – Sydney Gurewitz Clemens.
As much as arts and crafts are not given importance in our education system, as important, it is in the growth of a child. Arts and crafts let children express themselves like no other form can. It gives them individuality and helps them understand better. It sets children away from boundaries, it is the most fun form of learning that a child can have. Here are a few points that will help you understand why arts and crafts are important in a child's life:
Helps with better mental growth: In the growth years of a child, it is very important that they are made to do activities that will help with the development of all parts of the brain. Arts and crafts activities help with better functioning of cognitive abilities and motor receptors of the brain.
Boots Confidence: Arts and crafts are places that are least judgemental, so when a child tries a hand at art and crafts and they create something, it instills a great sense of confidence in themselves. Confidence is a factor that plays a major role in our life in the longer run, therefore what is a better way than arts and crafts to boost confidence in your children. If you are looking for a school in Panchkula that pays importance to arts and crafts as well as an academic curriculum, Gurukul School has mastered the art.You can read also – The Gurukul – Good CBSE Schools in Panchkula (Tricity)
Makes them Creative: Arts and Crafts is a great way to introduce the idea of creativity to your children. It lets children become creative and make a world of their own. When children learn to be creative it also gives them problem-solving skills and makes them more independent. Children who have done arts and crafts in their childhood grow up to become adults who are more confident and independent.
Alternate Career Option: In the 21st century there is no one strict formula to succeed in life, you can be successful at anything you put your heart and soul into. Introducing a child to arts and crafts in the initial years is a great way to test the areas of interest. Children with special talents are identified in the crib itself, so it is very important to introduce your child to arts and crafts. Gurukul school in Panchkula has a curriculum that is very beautifully curated keeping in mind the balance between studies, sports, and arts and crafts.You can read also – 10 ways guardians can help children adjust to high school
In the olden days, sports and arts and crafts were considered to be a waste of time, but such is not the condition today. The 21st century has opened the doors for everyone to succeed, you just have to be the best at it. To be best at something it is very important that we start our practice at the earliest. Therefore picking a school for your child that not just focuses on studies but focuses on co-curricular activities as well as arts and crafts opens the gate of unlimited potential. When students study in such schools, the sky is the limit for them. If you are looking for such a school for your child in Panchkula,
visit Gurukul School today!
Tags:
Arts
,
Arts and crafts
,
Child's Life
,
Crafts
,
education
,
good CBSE schools in Panchkula
,
Good CBSE Schools in Tricity
,
Gurukul School
,
Gurukul school in Panchkula
,
high school
,
school
,
school in Panchkula