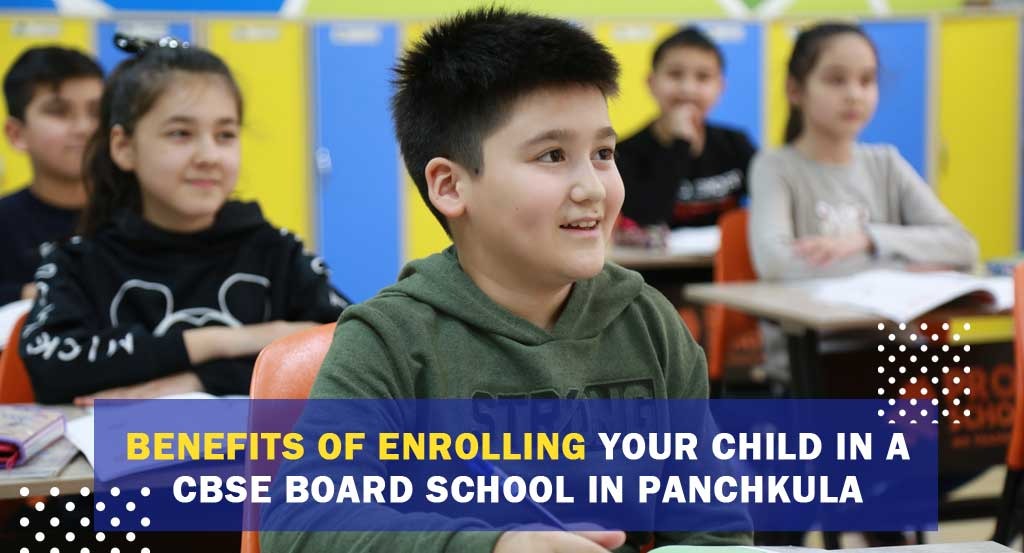 Deciding on the school for your child is one of the most crucial decisions that a parent has to make these days, and just deciding on the name of the school isn't going to win the battle for you. We are living in a very competitive world these days, each decision that we take for our children has to be made with great precision. It is majorly our decisions that will shape the future of our children. So, not just the school, even the education board that is being followed in the school should be a deciding factor before finalizing one. These days other than state boards, there are two boards that are majorly followed in schools, CBSE and ICSE, where CBSE stands for Central Board for Secondary Education, and ICSE stands for Indian Certificate for Secondary Education. When we come to think of it, CBSE is a choice that gives hope for a better future of the children. When children come from cities like Panchkula, sending them to a CBSE school in Panchkula is a must.
You can read also –  Good CBSE Schools in Panchkula (Tricity)
Here are a few advantages that your child can leverage if you send them to a CBSE school in Panchkula. 
Way more Options: CBSE board does not limit the potential of the students. Therefore its curriculum is based on finally curated points that make sure that a child's full is unleashed. From learning guitar to being a mathematician. CBSE makes sure that your child can cover all. There are no strict subject options. CBSE does not believe in stereotyping students' subject choices and with changing world when the time comes for your child to finally choose their electives, you don't know how experimental they will get. Would you want to limit their potential?
Majorly Accepted: Unlike other boards, CBSE is majorly accepted in nearly most of the states of India. Not only should this assure you that your child is studying the right board, but you'll also don't have to worry about your transfers or school changes of your child, because this is a board that you will find nearly everywhere.
You can read also – Top Ranked Secondary Schools in Panchkula
Very Helpful with competitive exams: Most of our children study since the beginning of laying founding stones for the competitive exams in their future. When preparing for competitive exams, CBSE Board comes in very handy since the pattern of questions based on competitive exams is basically followed by CBSE Board. So when preparing for competitive exams in the future, your child won't have to switch between studying for two boards. CBSE board will make sure that it covers all.
Holistic Development of Students: CBSE Board doesn't just believe in mugging up subjects. It bases its curriculum in such a way that the child has a holistic development. They know about the world and earth around them, not just bookish knowledge. CBSE board makes sure that the students are ready to take on the world head-on!
Students are the first priority: CBSE board makes sure to put students on the top of their priority list when deciding the curriculum or the exam structure. They make sure that studies should not become a burden for the students. They want their students to have fun while they learn. This makes the learning more effective and long-lasting.
So what are you looking for, find the best CBSE school in the Tricity and enroll now!
You can read also –  How to Find the Best CBSE School in Panchkula?
Tags:
best CBSE school in Panchkula
,
best CBSE school in the Tricit
,
CBSE board school
,
CBSE Board school panchkula
,
CBSE School in Panchkula
,
good CBSE schools in Panchkula
,
Top Ranked Secondary Schools in Panchkula